Daisy Slae
Living Dead Dolls Series 14
Date of death: May 31, 1996
She thought that nature was so pretty
Even gentile and pure
But the deep dark depths of the wilderness
Proved more then she could endure
The elements claimed her slowly
And she ceased to sing and play
But to spite natural law
And the powers that be
She arose from the dead…Daisy Slae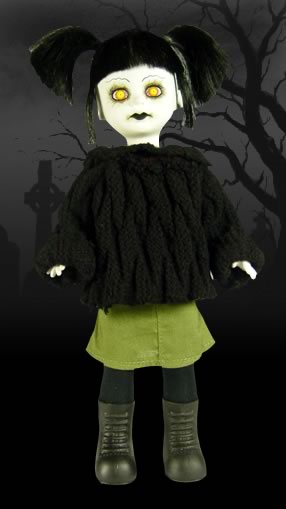 Jasper
Living Dead Dolls Series 14
Date of death: February 21, 2005
Jasper was a solipist, that is to say
She believed the world lived in her head
And since all she desired was mass genocide
Jasper just had to turn up dead
She thinks she was resurrected
So the world could go on living
Suicide to end them all
Is the gift she keeps on giving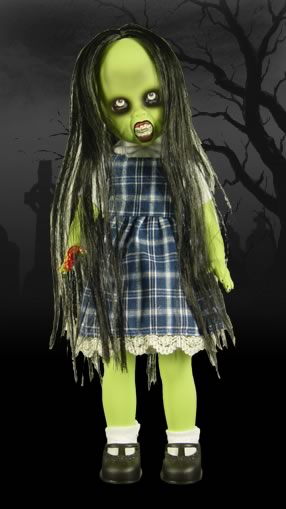 Alison Crux
Living Dead Dolls Series 14
Date of death: April 4, 1944 4:44pm
Ushering lost souls to the other side
Is a job in which she takes great pride
To the final resting place Alison holds the key
But where that may be knows not she.
Alison loved to play in revolving doors
Until one day she got stuck
No one saw her on the floor
Of all the rotten luck.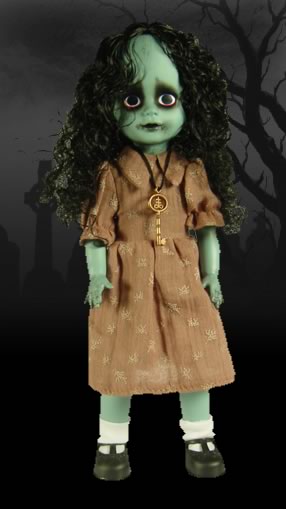 Dee K.
Living Dead Dolls Series 14
Date of death: April 18, 1858
A well-mannered little ghoul
With a crooked set of undead teeth
Fitted with a set of braces that
Outshine the stench that lies beneath
Sweet little rotten Dee K.
Loved to finger paint throughout the day
In her victim's blood she would dip her finger
And draw putrid scenes of the bodies that linger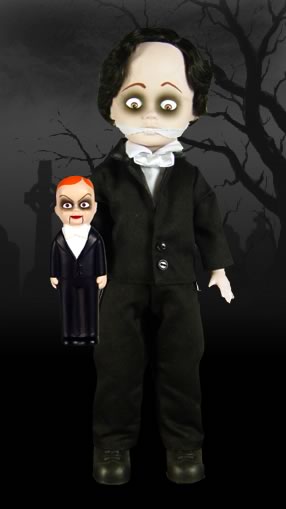 greGORY
Living Dead Dolls Series 14
Date of death: July 14, 1956
greGORY the ventriloquist
had an act that was rather crummy
Through one of fate's little twists
It is now he who is the dummy
With a gag over his mouth and a chopped off hand
The Great greGORY has lost all control
He channeled the dead through his dummy
And they are taking over his mind, body and soul